Nowa – Bootstrap Admin & Dashboard HTML Template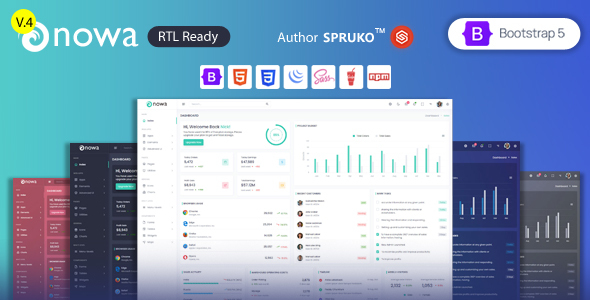 Nowa-Now you can use this admin template to design stunning dashboards that will wow your target users to no end. To create a good and well-structured dashboard, you need to start from scratch with HTML, SCSS, CSS, and JS and with lots of coding, but by using this Nowa-Admin template, you can customize your dashboard effortlessly within no time. And we create our templates in a very professional manner to satisfy our clients. The item was designed for professional developers.
Template Highlights
The Nowa admin template is one of the modern dashboard templates. It is also a premium admin dashboard with high-end features, where users can easily customize or change their projects according to their choice. Please take a quick look at our template highlights.
Switch Easily from Vertical to Horizontal Menu
The Nowa – Bootstrap 5 Admin & Dashboard Template is available in both vertical and horizontal menus. Both menus are managed by single assets. Where users can easily switch from vertical to horizontal menus.
Switch Easily from Full Width to Boxed Layout
The Nowa – Bootstrap 5 Admin & Dashboard Template is also available in two different types of layouts "Full Width" and "Boxed" Layouts. So that user can switch their dashboard from one layout to another layout effortlessly.
Switch Easily from LTR to RTL Version
The Nowa – Bootstrap 5 Admin & Dashboard Template is available in LTR and RTL versions with single assets. Using those single assets, it's very easy to switch from one version to another version.
Change Easily Side Menu Styles
The Nowa – Bootstrap 5 Admin & Dashboard Template is also available in different types of Side Menu styles. Where the users can change their Side Menu styles by using single assets.
Switch Easily from One color to another color Style
The Nowa – Bootstrap 5 Admin & Dashboard Template is available in different types of color Styles. Where the users can change their template completely with those color Styles.
It has a super clean and simple scss bootstrap 5 dashboard design template. You can easily customise this bootstrap 5 admin dashboard design with HTML components and widgets and jQuery Plugins. This simple admin panel template has the best quality of the best, unique and freshest premium admin templates. This Nowa template ensures that you can easily customize the dashboard.
It is a fully clean, simple, multipurpose admin and user dashboard template with a responsive design for all types of devices. It works on all major web browsers and it is based on bootstrap 5 support..
Once you purchase this bootstrap admin panel template, you will be able to get a free download of all future updates.
This simple admin template comes with an awesome and unique design. We also ensure that you can easily customize the template design of the Nowa dashboard.
In addition to all this, enjoy a lifetime of FREE updates!
Pre Built Dashboard Designs:
• Bootstrap 5
• HTML5
• RTL Ready
• scss Powered
• Google Fonts
• Multipurpose Use Bootstrap dashboard
• HTML 5 Responsive Template
• 110 + HTML Pages
• 60 + Plugins
• 2 Types of Menus (Left Menu & Horizantal Menu)
• Dark, Light, Transparent & Transparent with Image Styles
• Utilities Pages
• 6 types of Charts
• Responsive Bootstrap 5 Framework
• Well Commented Code
• Data Tables
• File upload
• Easy to customize
• Neat, clean and simple design
• TimeLine
• Bootstrap 5 carousel
• Select2
• About Us
• Forms (Form Elements,Advanced Forms,Form Layouts,Form Wizards,Form Validation,Form Editor,Form-Element-Sizes)
• Settings page
• Mail (Mail,Mail-compose,Read-mail,Mail-settings)
• Blog,Blog Details
• Message Chat
• Sweet Alerts
• Ratings
• Counters
• Userlist
• Edit Post
• Range Slider
• Image Comparision
• Notifications,Widget-Notifications
• Treeview
• Range Slider
• FormAdvanced Elements
• User Profile
• Authentication Pages (Sign-in,Sign-up,Forget Password,Reset Password,Lockscreen,Under Construction)
• Error Pages (404,500,501)
• Todo Task
• Faq's
• More Widgets
• Notifications-list Page
• Switcher,Switcher-1
• Maps (Leaflet Maps,Vector Maps)
• File-manager,File-manager1,File-details,File-attachments.
• Image Gallery
• 12 Types of Icon sets
• 3 level menus
• Lock screen Pages
• ECommerce Pages (Shop,Product-Details,Shopping Cart,Checkout,Wishlist)
• Regular Updates
• Form Elements
• Under Construction Page
• Invoice Page
• Calendar
• Media Object
• Pricing Tables
• More Widgets
• W3C Validated
• 24 * 7 Professional Company Support
What do you get?
• All HTML files.
• CSS Files.
• SCSS Files.
• JS Files
Version V.4 - Update  16th-May-2022. 
Updates : 
1) UI issues Fixed.

Version V.3 - Update  23rd-April-2022. 
Updates : 
1) UI issues Fixed.
2) Added "id" for bootstrap css link.
3) New Page added.

Version V.2 - Update  1st-April-2022. 
Updates : 
1) UI issues Fixed.
2) Responsive Issues Fixed in Html Pages.
3) All CSS files in the plugins folder are converted into SCSS files.
4) Header Section Updated.
5) Customized Switcher styles will now store in Local Storage.

Version V.1 - Update  13th-January-2022. 
Updates : 
1) Updated empty.html page
2) Updated themecolor.js    

IMPORTANT NOTE :
Note: All images are used for demo purposes only, they are not included in the download package.
Support :
Feel free to contact us any time. We have a dedicated team to provide you the best support. If you want any queries please contact live chat or email :
[email protected]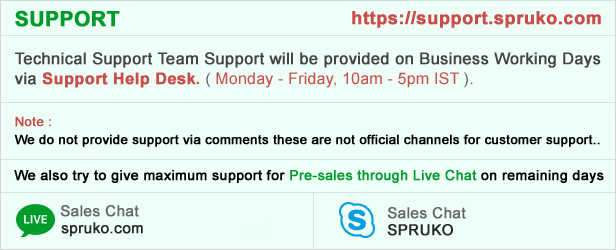 Nowa – Bootstrap Admin & Dashboard HTML Template
#Nowa #Bootstrap #Admin #Dashboard #HTML #Template
advancesolar.net